Tribal Civics: A Guide for Fostering Engagement
A Tribal civics initiative is a formal or informal learning opportunity for Tribal citizens to learn about their people's history, cultural values and practices, traditional forms of governance, and current governmental structure and administration. This guide is for Indigenous youth, educators, knowledge keepers, grassroots and elected leaders; it's for anyone who aspires to create and implement a Tribal civics engagement plan for their nation. This resource is available to download as a PDF.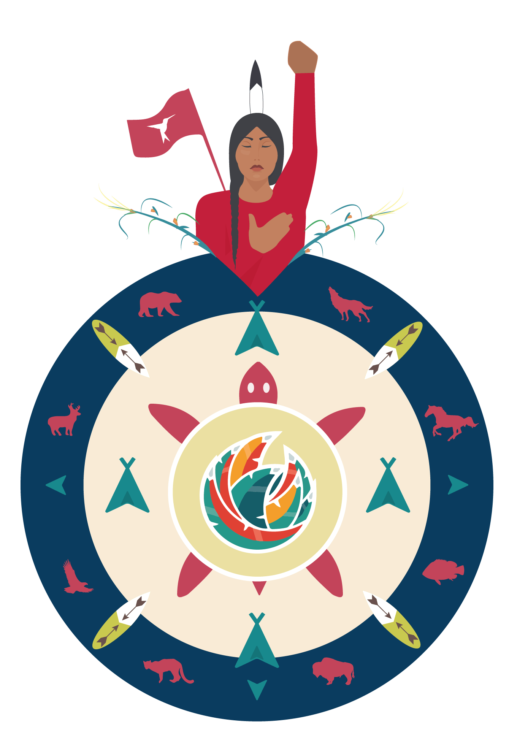 Who This is For
This is a guide to developing a Tribal civics engagement plan or program within your own nation. Our goal with this guide is to provide a resource to nations and their grassroots leaders so that they can develop and implement their own customized program for engaging their citizens in the important work of governing.
We're providing an introduction to the guide here; the complete detailed guide is available as a pdf to download at the bottom of this page. The complete guide includes information on identifying leaders for your initiative, what type of content & topics you could include, how to gather and share knowledge, and tips & suggestions for implementing your Tribal Civics project.
Inspiration
Cohort 9 Native Nation Rebuilder Levi Brown (Leech Lake Band of Ojibwe) inspired us to create this guide. Witnessing him create and implement a successful civics course for his own Native nation, we knew we needed to find a way to share his model with others in our region and beyond.
Levi originally launched his civics course as part of his Native Nation Rebuilders program experience with our organization. He thoughtfully collaborated with other Rebuilders to create resources to support his civics course. Levi has observed the positive impacts his course has had on citizens of his nation. Levi's civics course resulted in an increased understanding by his fellow citizens that all Anishinaabe citizens have a role to play in their government. Requests from other segments of his nation to share this knowledge, such as from the Tribal college, Gaming Division, and others, reflect a strong interest in engaging citizens in Tribal civics.
Levi hopes other Native nations will feel inspired to create a civics educational experience of their own.

What is Tribal Civics and Why is it Important?
According to Merriam-Webster, 'civics' is "a social science dealing with the rights and duties of citizens." If you took a civics class in high school, you probably learned about state and federal governmental systems, laws, policies, and procedures. You probably also learned about your rights and duties as a citizen.
The purpose of a civics education is to develop informed citizens who can engage in civic life effectively, ultimately strengthening and upholding a democracy. Civic engagement can also be defined as the process of working to make a difference in the civic life of our communities and developing the combination of knowledge, skills, values and motivation to make that difference (Civic Responsibility and Higher Education, Thomas Ehrlich). Civic engagement promotes improved quality of life in a community, through both political and non-political processes.
From an Indigenous perspective, the concepts of civics, civic engagement, and democracy reflect Indigenous practices and values, such as reciprocity, relationships, and responsibility. Prior to colonization and the influence of individualism, community care and contribution were encouraged. Indigenous people knew the importance of contributing to their community; practices that improved social well-being, cohesion, collaboration, consensus building, and positive decision-making were widespread. It is time to revive and strengthen these practices to rebuild our Native nations in a positive way for the next seven generations.
Civic engagement is foundational to a future where Native nations thrive on their own terms; where Tribal citizens are informed and empowered to contribute to their communities.
A plan for engaging citizens in Tribal civics may include a Native nation's history, cultural values and practices, the development of their Tribal government systems, policies, laws, and Tribal citizens rights, roles, and responsibilities. Tribal citizens equipped with this knowledge are better prepared to make informed decisions, contribute to important conversations and initiatives, take action when called upon, and ultimately have a stronger sense of identity.
A Tribal civics project can provide Tribal citizens with information and tools to nurture and improve their political systems. It can help Tribal citizens feel more confident in their Tribal government and increase trust and accountability. After participating in a Tribal civics project, citizens will better understand the governmental resources available to them and how they can help strengthen their nation.
A Tribal civics project is important because it:
Revitalizes Indigenous Knowledge: When we return to who we were and unburden ourselves from systems of governance that do not reflect our knowledge and values, we can begin our healing journey. Using our traditional knowledge and culture in our governance helps build citizens' confidence in our systems, inspires active public engagement, and brings about informed decision making for all. Centering this knowledge reminds people about the strong influence that Indigenous wisdom has had on everything from farming practices to modern-day governmental structures. Revitalizing Indigenous governance knowledge helps ensure that our people continue to thrive into the future.
Restores Hope and Pride: When we learn about the knowledge and wisdom of our ancestors and relatives we feel pride in our Indigenous identity and hope for the Indigenous future we can build for our children.
Teaches Us to Be Good Relatives: Kinship is a foundational value that Indigenous people hold sacred. Being a good relative means contributing to your family and community. It looks like working to make life better for everyone. Learning civics can encourage us to do things like attending council meetings, asking questions of our leaders, and holding each other accountable—all things that make our communities stronger for the greater good.
Encourages the Seven Generation Mindset: Tribal civics can help us restore and center our ancestral teachings so we can pass them on to future generations, plan for a sustainable future, and inspire future generations to become leaders within their nations.
Strengthens Tribal Sovereignty: Tribal civics can help support and protect Tribal sovereignty. The more we understand our history and where our people came from, the better equipped we are to advocate for ourselves and design systems that are truly by us and for us.

How to Use This Guide
This guide is for Indigenous youth, educators, knowledge keepers, grassroots and elected leaders; it's for anyone who aspires to create and implement a Tribal civics engagement plan for their nation. You can use it alone, or you can partner with other like-minded community members.
This guide offers ideas and suggestions, but it's ultimately up to you to decide what to include. Tribal civics should never take a one-size-fits-all approach! Our Native nations are diverse; it's okay if your Tribal civics project looks different than another nation's project.
We've incorporated content from Levi Brown's Leech Lake Civics Course throughout this guide. Seeing real-life examples from another Native nation can help you understand how to apply this content toward the creation of your own civics project.
Before you begin this journey, do some self-reflection. Set your intentions for this work. Here are some questions to get you started:
Why is creating and implementing a Tribal civics project important to me? Why now?
What do I hope to gain from this experience? What do I hope my community gains from this experience?
What do I already know about my nation's culture, values, history, and traditional forms of governance? Who do I know who might have resources on these subject areas?
What potential roadblocks might I encounter, and how can these be resolved?
When I encounter challenges in other areas, where do I turn for strength and solutions? How can I apply this approach in this context?
What is the potential impact of a learning experience like this on my community?
For More Information
If you have more questions, please feel free to contact our Tribal Governance Support team!
Download the Complete Tribal Civics Guide
This is only a brief introduction to the guide! We hope you'll download the complete detailed PDF version of the guide below. The complete guide includes information on identifying leaders for your initiative, what type of content & topics you could include, how to gather and share knowledge, and tips & suggestions for implementing your Tribal Civics project.