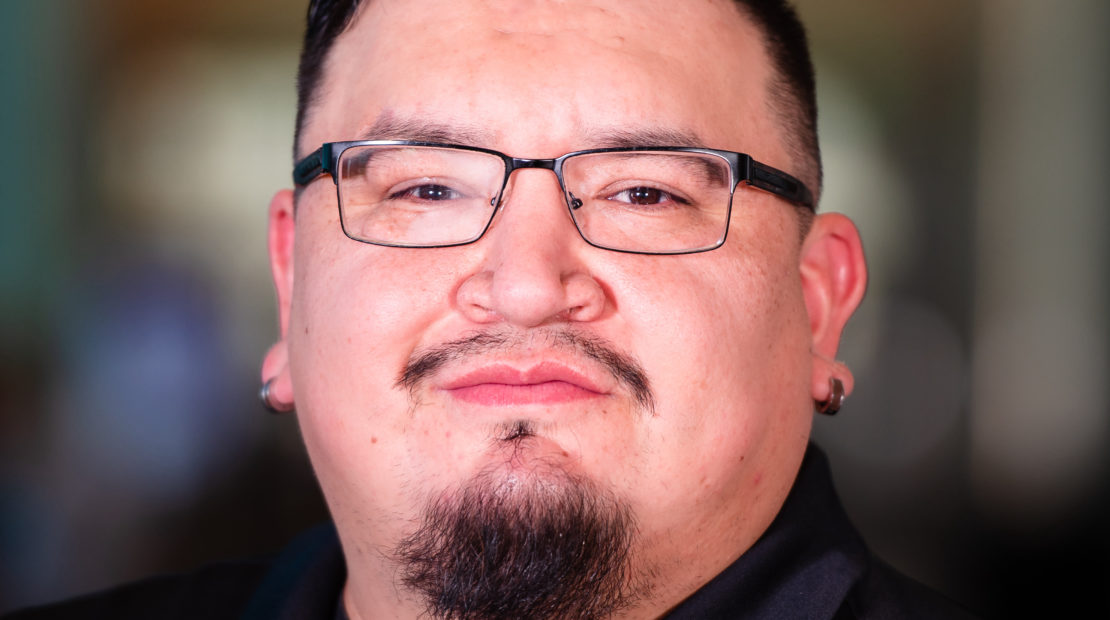 Lydell Merrick: Inspiring the next generation
This is part of an ongoing series focused on the Native nation rebuilding movement. Our Rebuilders, graduates of our Indigenous leadership program, are working to implement positive change in their communities. Our article series brings the rebuilding movement to life through storytelling and demonstrates what it looks like to put the rebuilding framework into action. 
For Rebuilder Lydell Merrick (Spirit Lake Nation), cultivating a Native nation rebuilding movement looks like inspiring the next generation. 
A single father of three, Lydell works hard to be an active parent. There's no skill he won't learn if it means he can help support his kids. "I learned how to curl my daughter's hair on YouTube," Lydell explains. "I've gone shopping for homecoming dresses. I've also gotten really into cooking." He credits parenting with helping him grow as a person and inspiring him to want to be a role model for both young Native people and other single fathers. 
Why not me? 
Lydell's leadership journey began with a simple question: "Why not me?" While working at a bank in Bismarck, Lydell dreamt of advancing his career. But he soon hit a wall due to educational and experience requirements. When his supervisor told him that he needed four additional years of work experience or an undergraduate degree to qualify for a promotion, Lydell took a bold step and resigned the next day. Despite the negative voices in his head, he asked himself "Why not me?" and enrolled in school. As Lydell anticipated, the path wasn't easy; challenges began to pile up. Lydell's lung collapsed during his first semester. He struggled financially. And, because he sold his car to help pay for school, he found himself walking long distances with a heavy backpack. Lydell persisted and drew inspiration from his role as a father during difficult times. He eventually completed his undergraduate degree.
Lydell's "Why not me" approach would soon come into play again when he decided to apply for the Native Nation Rebuilders program. The program initially appealed to Lydell because he wanted to enrich his leadership skills and immerse himself in new ideas. But, after seeing the list of program alumni, he concluded the program wasn't meant for him. "I doubted myself. I was just a student. And all of these other people from previous cohorts have gone on to do amazing things and hold big roles," Lydell explains. He later spotted photos of a few of his cousins in the Rebuilders program at a regional convening, and his mindset shifted. "I saw pictures of my first cousins," Lydell notes. "And I was like, ok, I guess I'm the next relative who needs to step up. I won't know unless I put my name in the hat." 
Lydell's decision to apply paid off. He was selected for the program's eleventh cohort and completed his first year of training in 2021. He's now spending his second program year working on his action plan (a required project to benefit the community). Lydell credits the Rebuilders program for opening his eyes to the benefits of seeing challenges from multiple perspectives and introducing him to a network of fellow changemakers. "Being a Rebuilder is one of the best decisions I've made besides having my children," Lydell asserts. He's glad his "Why not me?" mantra helped him overcome his imposter syndrome feelings and decide to apply. Reflecting back, Lydell regrets not taking this approach sooner. But, he finds solace in knowing that he has an opportunity to mentor future Native leaders. 
Inspiring the Next Generation  
Lydell is using the lessons he's learned overcoming challenges and his views on movement building to create an action plan to inspire the next generation. He hopes to mentor Indigenous young adults–ideally, high school juniors and seniors–and encourage them to use the power of positive thinking to achieve their goals. Lydell feels strongly about the importance of Indigenous people having role models who look like them. "As an Indigenous person who completed college as a single parent, I want to be a visible role model in my community," he notes. "I want younger Indigenous folks in similar situations to know they're not alone. They can achieve their goals."
Lydell is currently enrolled in a leadership master's degree program at the University of Mary and is working to create his own leadership-focused small business. Ultimately, he sees his mentorship-related goals as a means for growing the Native nation rebuilding movement. Conversations are key for igniting change, Lydell believes. And empowering Indigenous youth through coaching and conversation is a great way to strengthen Indigenous voices and influence. "The Rebuilders program taught me to share my voice. Speaking up and sharing lessons learned is important because you never know who you'll inspire," Lydell notes.